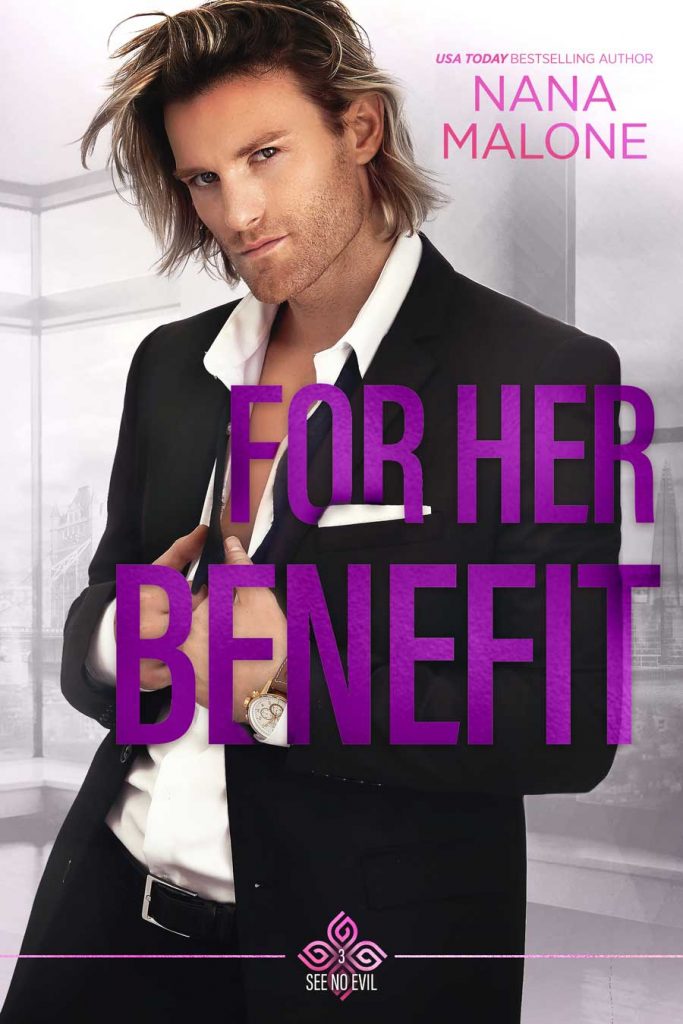 For Her Benefit, book three in the See No Evil Series by USA Today and Wall Street Journalbestselling author, Nana Malone releases August 18, 2020!
Tonight, I risk it all.
My fortune.
My freedom.
My love.
My so-called brothers in oath have betrayed me. Perhaps they forgot how many of their secrets I've been keeping.
Tonight, vengeance is mine.
But when it comes to heisting a priceless diamond there is no simple plan. There will be blood. After all, there is no such thing as a bloodless coup.
I'm not the only one risking it all. At the center of it all is the woman I never saw coming. The woman who owns my heart.
What a tangled web I've woven, trying to find honor amongst these thieves.
The good news is, I know who to trust.
The even better news…I know who to burn.
Pre-order today!
Amazon: https://amzn.to/3c3JGr3
Amazon Worldwide: http://mybook.to/ForHerBenefitNM
Apple Books: https://apple.co/2TC2WW2
Nook: https://bit.ly/2zkkkrN
Kobo: https://bit.ly/2X1Ny7z
Google Play: https://bit.ly/2LXqwIP
Goodreads: https://bit.ly/2LYS4O8
About Nana:
USA Today Bestseller, Nana Malone's love of all things romance and adventure started with a tattered romantic suspense she "borrowed" from her cousin.
It was a sultry summer afternoon in Ghana, and Nana was a precocious thirteen. She's been in love with kick butt heroines ever since. With her overactive imagination, and channeling her inner Buffy, it was only a matter a time before she started creating her own characters.
While she waits for her chance at a job as a ninja assassin, in the meantime Nana works out her drama, passion, and sass with fictional characters every bit as sassy and kick butt as she thinks she is.
Connect with Nana:
Website: http://nanamaloneromance.net/
Facebook: http://bit.ly/NanaMaloneFB
Goodreads: http://bit.ly/NanaMaloneGR
Twitter: http://bit.ly/NanaMaloneTwitter
Apple Books: http://bit.ly/NanaMaloneAB
Instagram: http://bit.ly/NanaMaloneIG
Amazon: https://amzn.to/2Wwz3t9
Bookbub: http://bit.ly/NanaMaloneBB