WHEN FOREVER FINDS US
Claudia Burgoa
Release Date: April 24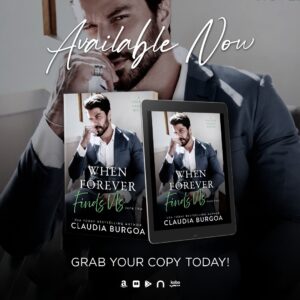 He saved my heart.
 She owns my soul.
From USA Today Bestselling Author Claudia Burgoa comes the highly anticipated conclusion to The Downfall of Us Duet.
The first time I saw her, I had a feeling about her. It was the hypnotizing indigo eyes. Her smile. Her. I find myself drawn to her music. I can't stop thinking about her voice. I'm captivated by her beauty. I don't understand the bond between us. Also, I belong to someone else. He put me together when I was broken. He loved me when I couldn't stand on my own two feet. We fought for our freedom. But still, I feel incomplete. Piper Decker might own a piece of me. But Derek Farrows claimed me when I was broken. Can I belong to two people? Can we coexist as one and find our forever?
When Forever Finds Us is a heartwrenching story of finding who you are before you can offer your heart.
Grab Your Copy!
Amazon:
https://geni.us/WhenForeverFindsUsZon
Apple:
https://geni.us/WFFUApple
B&N:
https://bit.ly/WFFUNook
Kobo:
https://www.kobo.com/us/en/ebook/when-forever-finds-us
Google:
https://bit.ly/WhenFFUGP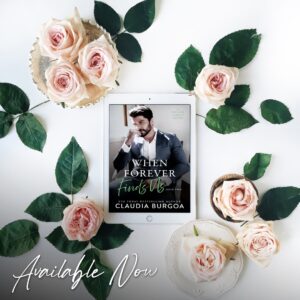 Meet Claudia Burgoa:
Claudia is an award-winning, USA Today bestselling author. She writes alluring, thrilling stories about complicated women and the men who take their breaths away. Her books are the perfect blend of steamy and heartfelt, filled with emotional characters and explosive chemistry. Her writing takes readers to new heights, providing a variety of tears, laughs, and shocking moments that leave fans on the edge of their seats. She lives in Denver, Colorado with her husband, her youngest two children, and three fluffy dogs. When Claudia is not writing, you can find her reading, knitting, or just hanging out with her family. At nights, she likes to binge watch shows or movies with her equally geeky husband. Keep up with Claudia Burgoa and subscribe to her newsletter:
https://bit.ly/NwsletterCB%20%20
To learn more about Claudia Burgoa & her books, visit
here
!
Connect with
Claudia Burgoa:
https://claudiayburgoa.com/wp/contact/
Hosted By: