SUMMER LOVIN (Dating Season #6) by Laurelin Paige and Kayti McGee
Release Date:
September 7th
Genre/Tropes: Contemporary, Romantic Comedy
Add to Goodreads:
https://www.goodreads.com/book/show/58113068-summer-lovin
PRE-ORDER IS AVAILABLE!!!
Amazon:
https://geni.us/SummerLovinAmazon
Apple Books:
https://geni.us/SummerLovinApple
Kobo:
https://geni.us/SummerLovinKobo
Nook:
https://geni.us/SummerLovinNook
Google Play:
https://geni.us/SummerLovinGoogle
START THE SERIES TODAY!!!
https://laurelinpaige.com/dating-season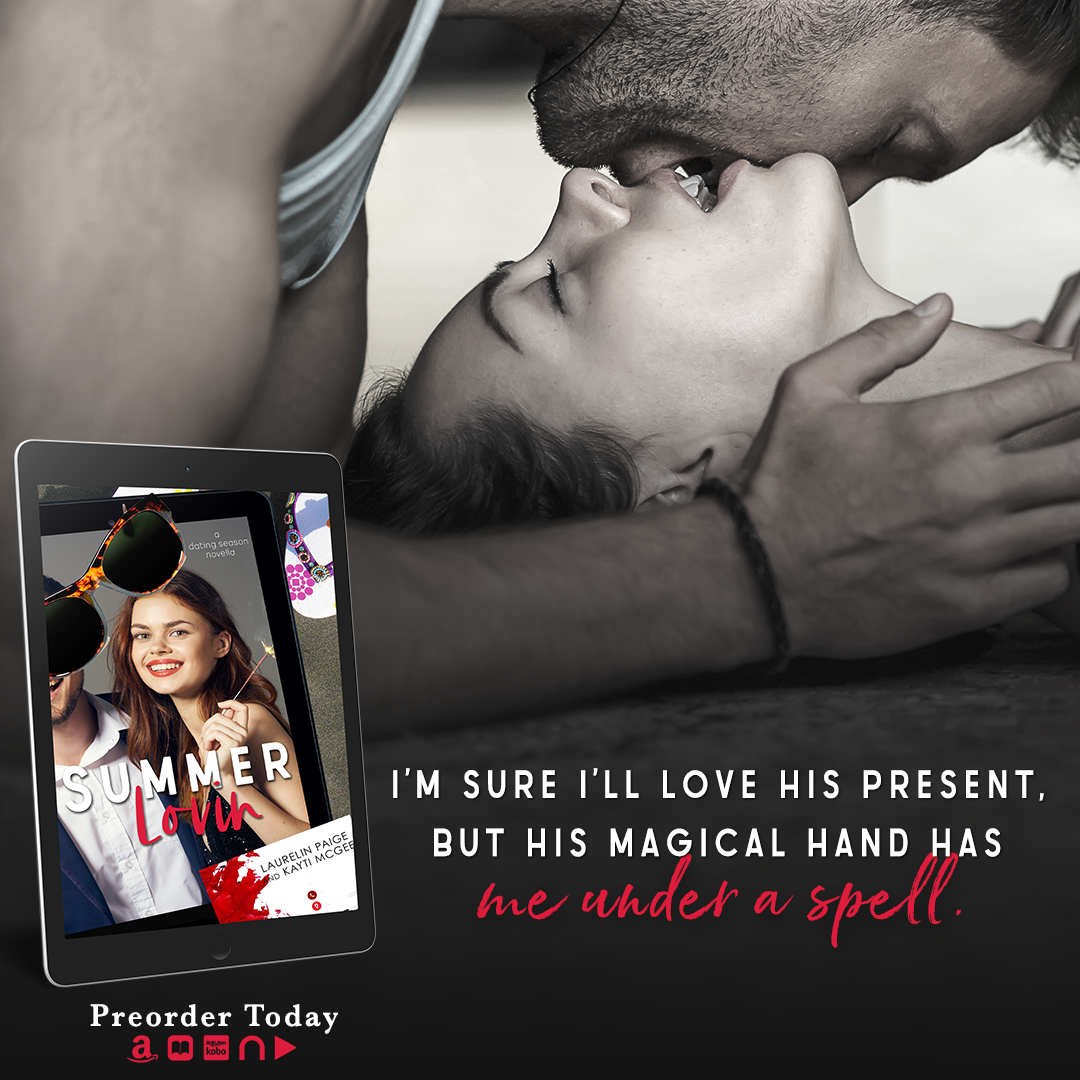 Excerpt:
He walks me back toward the bed and breaks away when the back of my knees hit the mattress.
"I'm going to give you your gift."
"Oh. Now?"
He nods and wets his lips. "I think you'll want this gift. Are you ready for it?"
"Really, it's okay. You don't have to," I say greedily, wanting to continue the make-out session with him. "We don't know how long they'll be gone, so let me kiss you senseless a little longer?"
He reaches between my legs and palms the epicenter of my lust, rubbing the heel of his hand against the electrified bundle of nerves.
I'm sure I'll love his present, but his magical hand has me under a spell. I don't want to seem ungrateful, so I shove my selfish desires away. "I'm ready and then I'll kiss you senseless with gratitude?"
His teeth scrape against the shell of my ear while he continues to work my body into a frenzy. "My gift is to kiss your pussy senseless."
My thighs clench at his dirty talking. This moment seems surreal. Like it's too good to be true, and the universe is messing with me and I'll wake up in the morning to realize it's been a dream.
"Climb on the bed."
Blurb:
My dating season has come to a close, and I'm ready for a Hot Boyfriend Summer…
Almost every single thing in my life has changed over the past year.
New job.
New me.
New knowledge.
Ah, to be young again, with the wisdom I have gained over a year's worth of dating-as-a-competitive-sport.
If only I'd had just about an inch more before I made my commitment...
Episode six of six in the laugh-out-loud Dating Season series.
About Laurelin Paige:
With millions of books sold worldwide, Laurelin Paige is a New York Times, Wall Street Journal and USA Today Bestselling Author. She is a sucker for a good romance and gets giddy anytime there's kissing, much to the embarrassment of her three daughters. Her husband doesn't seem to complain, however.
When she isn't reading or writing sexy stories, she's probably singing, watching Killing Eve or Letterkenny, or dreaming of Michael Fassbender. She's also a proud member of Mensa International though she doesn't do anything with the organization except use it as material for her bio.
She is represented by Rebecca Friedman.
Connect w/Laurelin:
Facebook:
https://www.facebook.com/LaurelinPaige/
Amazon:
http://amzn.to/2knJOrx
Bookbub:
https://www.bookbub.com/authors/laurelin-paige
Instagram:
https://www.instagram.com/thereallaurelinpaige/
Facebook Fan Group:
https://www.facebook.com/groups/HudsonPierce/
Website:
http://www.laurelinpaige.com
Never miss an update! Subscribe to Laurelin's mailing list:
Newsletter:
http://bit.ly/LaurelinNews
About Kayti McGee:
Livin' deliciously in beautiful Kansas City Missouri, where everyone else loves the Royals as much as I do. I like wine and murder shows and mountains and art.
I'm represented by Rebecca Friedman at Friedman Literary because I am a lucky, lucky girl. Call her if you want me to do Iron Chef, otherwise just hit me up on FB at
http://www.facebook.com/kaytimcgeeauthor
, on Insta @KaytiMcGeeWrites, and stay sexy.
Connect w/ Kayti:
Facebook:
https://www.facebook.com/Kayti.McGee.Author
Join Kayti's Readers Group:
https://www.facebook.com/groups/kaytimcgeesredlightdistrict
Bookbub:
https://www.bookbub.com/authors/kayti-mcgee
Amazon:
https://amzn.to/2QWMugb
Goodreads:
https://www.goodreads.com/author/show/7369993.Kayti_McGee
Instagram:
https://www.instagram.com/kaytimcgeewrites