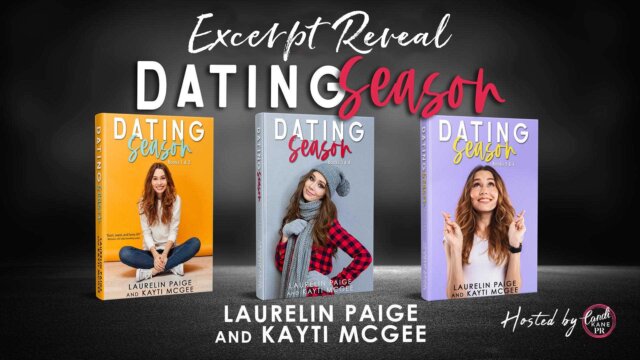 DATING SEASON: BUNDLE 2 & BUNDLE 3 by Laurelin Paige and Kayti McGee
Genre/Tropes: Contemporary, Romantic Comedy
Bundle 2 includes Fall Hard & Winter Bloom and Bundle 3 includes Spring Fever & Summer
Lovin
in the Dating Season series.
START THE SERIES WITH BUNDLE #1!!!
https://geni.us/DatingSeasonBundle1
Excerpt:
He pushes the button. "You ok?"
"Yeah."
"Second thoughts?"
"Just the normal thoughts," I admit. I'm always prone to spiraling. "But no, I'm good."
The doors slide close, and as soon as we're alone inside, Logan tugs me closer. "Let me see how wet I can make you in two minutes."
It only takes a few seconds once his lips meet mine. I'm sure there are cameras getting a splendid view of me clinging to him as his tongue dips inside my mouth, but I don't care. His kiss is intoxicating and makes me forget all about my previous Fun Affairs.
The elevator stops, and his hand slips inside my panties. "Soaked."
He sucks his finger as the doors slide open, and then I become bolder by taking his hand and sliding the same finger into my mouth.
"Damn," he murmurs.
DATING SEASON: BUNDLE 2 by Laurelin Paige and Kayti McGee
Release Date: November 9th
Add to Goodreads:
https://www.goodreads.com/book/show/59463565-dating-season-bundle-2
Blurb:
They say autumn shows us how beautiful it is to let things go… but I'm keeping Ryan's beard.
Past Chloe has a lot to answer for. She's made a number of questionable decisions, but drunkenly turning Ryan down on a dating app? Currently top of my list.
I love fall most of all, but oh my gourd, Ryan's beard is fast becoming a close second.
Luckily, he's ready to give me a second chance. We have everything in common, from art to weird history facts to the correct opinions about Titanic. And boy, does he know how to pumpkin spice it up in the bedroom.
We could easily be the cutest new couple in Boulder… if we ever leave his place.
They say winter is coming… and thanks to Logan, I am too.
If the past year has taught me anything, it's that I am an idiot. Between The Incident, the upcoming nuptials, and finding a new place to live, I'm about ready to find a cave to hibernate in. Nearly murdering the lead singer of my favorite local band really should have been on everyone's bingo card.
Their drummer going from medic to love interest was a plot twist I didn't expect.
Logan has all the things I've been looking for--the newness of spring, heat of summer, comfort of fall, and the distraction I'd like. It may not be the traditional third date, but I'm bringing him to my best friend's wedding anyway.
Charlotte's not the only one who can lock a good time down.
The second two books in the laugh-out-loud Dating Season series together in one bundle. Includes Fall Hard and Winter Bloom.
DATING SEASON: BUNDLE 3 by Laurelin Paige and Kayti McGee
Release Date: November 16th
Add to Goodreads:
https://www.goodreads.com/book/show/59463574-dating-season-bundle-3
Blurb:
It's time for spring cleaning, but I'm
not ready to toss Logan yet
…
Out with the old, in with the new… a new me, that is. Now that Charlotte's married, I, too, have decided to be mature. So Logan isn't Austin--that's okay. Better than okay. That's what I'd wanted all along, someone just as kind and loving and--okay, smoking hot--as my roommate. But a kind, loving, smoking hot someone who likes me back.
Logan has basically been all my dreams come true.
If I could stop stressing about work for five whole minutes to appreciate it, I'm sure I would be really happy. Thank God I have Austin to keep me grounded. Literally, because he makes me garden with him now. And maybe it's just the stress talking, but it kind of seems like he wants to put down roots too. How come no one told me maturity would be this complicated?
My dating season has come to a close, and I'm ready for a Hot Boyfriend Summer…
Almost every single thing in my life has changed over the past year.
New job.
New me.
New knowledge.
Ah, to be young again, with the wisdom I have gained over a year's worth of dating-as-a-competitive-sport.
If only I'd had just about an inch more before I made my commitment…
The final two books in the laugh-out-loud Dating Season series together in one bundle. Includes Spring Fever and Summer Lovin.
About Laurelin Paige:
With millions of books sold worldwide, Laurelin Paige is a New York Times, Wall Street Journal and USA Today Bestselling Author. She is a sucker for a good romance and gets giddy anytime there's kissing, much to the embarrassment of her three daughters. Her husband doesn't seem to complain, however.
When she isn't reading or writing sexy stories, she's probably singing, watching Killing Eve or Letterkenny, or dreaming of Michael Fassbender. She's also a proud member of Mensa International though she doesn't do anything with the organization except use it as material for her bio.
She is represented by Rebecca Friedman.
Connect w/Laurelin:
Facebook:
https://www.facebook.com/LaurelinPaige/
Amazon:
http://amzn.to/2knJOrx